Saturday, June 14, 2014
Storm Chasers:
T-Shirt
Poster:
Friday, June 13, 2014
Supercalifragilistic Dreams 2
Ahh the dreams of youth when all things are possible. This image is a montage of three different images creating the dream state reminiscent of Mary Poppins.
Purchase an affordable Open Edition
http://bit.ly/1hQmrDG
Purchase this image as a greeting card or poster here.
http://bit.ly/1hTv8O6
One original image is available, signed and with a certificate of authenticity
http://bit.ly/1lha1Qh
Tuesday, June 10, 2014
Don't Miss the annual Festival of Lupines in NH's North Country June annually!
To get a taste of the sights visit Wayne King's Lupine Celebration on line,
here
.
A Spring Symphony of Lupines Wayne D. King
Wayne D. King is an accomplished photographer. His work can be found in the collections of a broad range of people including Livingston Taylor, (the late) Peter Max, Koko Taylor, Richard Merit, Bill Bradley, Bruce Babbitt, Bill Clinton, Adhiambo Odaga, Bill Russell and others. His images are a celebration of life, blending the real and the surreal to achieve a sense of place or time that reaches beyond the moment into a dreamlike quintessentialism designed to spark an emotional response. Using digital enhancement, handcrafting, painting, and sometimes even straight photography, King takes the viewer to a place that is beyond simple truth to where truth meets passion, hope and dreams.
King studied photography under Richard Merritt at the University of New Hampshire. UNH had only a few photography classes but in those heady days Richard Merritt worked with a small and dedicated group of photographers who would become some of today's finest photographers: Edward Acker, Steve Bliss, Christopher Polydoroff, Casey MacNamara, Hannah Stutz and others.
As a freshman at UNH, King borrowed a camera from his roommate in order to have a camera when he applied for a job as a photographer at the New Hampshire, the UNH student newspaper. He had never used a camera but he needed the money so he talked a good game and was hired, prompting him to quickly learn how to develop film and print images. Within a few days he was hooked and he went on to work for "The New Hampshire" - UNH's student newspaper - for the next four years competing fiercely for front page images with his roommate and good friend Edward G. Acker III.
King holds a BS Degree in Environmental Conservation and a Masters Degree in Earth and Space Science Education from the University of New Hampshire, Durham.
A three term former State Senator from New Hampshire, Wayne King was the 1994 Democratic nominee for Governor. King is also the founder of The Electronic Community, a group of social entrepreneurs working on social and development issues in Africa. To find out more about King's latest project in Africa,
click here
.
King recently concluded work as the CEO of MOP Environmental Solutions, Inc with a merger that will make the company a force in the industry. MOP is a small public company in the business of manufacturing Oil Spill cleanup products. He is currently planning his next great life adventure.
Purchase Spring Symphony
On Cards
As a Poster
Fine Art Open Edition
Original Image
My first trip into the woods after snowmelt this Spring was at that moment when only the Skunk Cabbage had pushed its way toward the light....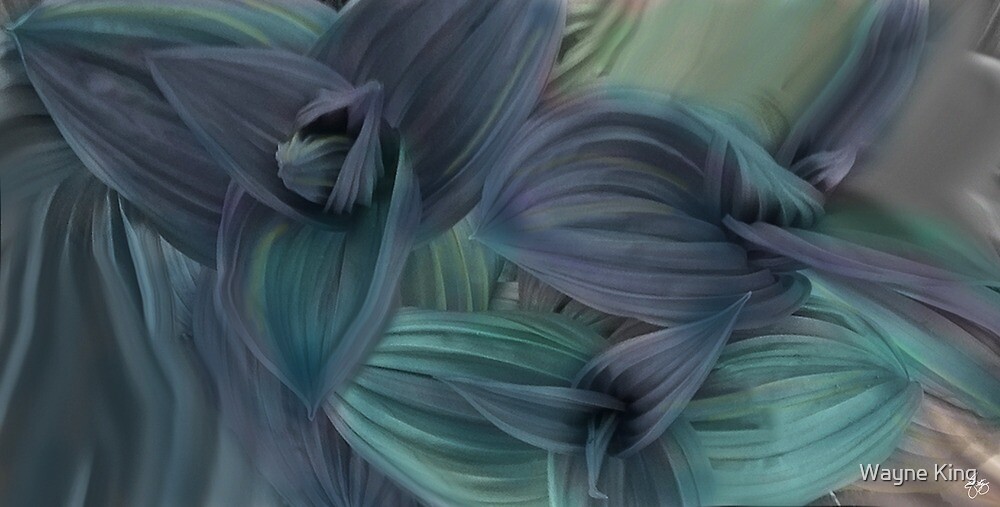 Love and Death A New Image: "Love and Death" This mixed media montage creates a surreal and abstract image. It is created f...

Waiting on a Purple Breeze Milkweed Pods opened and ready to fly. Manipulated color image. Only one original edition of 25 prints of...

Sacred Trust Update You may already know that I've been writing a novel about a group of unlikely compatriots that come together to try...